Recently, Baemin's outdoor billboard marketing campaign has attracted the attention of many people. Specifically, Baemin simultaneously hung large billboards in major districts in Ho Chi Minh City and Hanoi. These ones are designed simply, in sync with the brand colors, the image of the shipper in Baemin's uniform, but with different content, associated with the name & specific characteristics of each region.
For example, "Go Vap, I know it, You agree, I deliver" in Go Vap; "Tan Binh, my home, your order my delivery"; Or in Hoan Kiem (Hanoi): "Be in the alley, Still deliver"
Baemin's short, rhyming ads with a clear message and a bit of poetry on Baemin's billboard are being widely spread by the online community and receiving praise from the "content" community.
It can be said that Baemin has very effectively applied AIDA model in Marketing. According to the research of Marketing experts, AIDA theory is attributed to an American advertising and sales pioneer named E.St.Elmo Lewis. This is an important set of principles in advertising, assembled from the first letters of 4 words: Attention, Interest, Desire and Action.
This formula is very commonly used in content PR Marketing and is considered an important "key" that contributes significantly to the success of advertising campaigns.
St. Elmo Lewis, the father of AIDA, postulated three principles to which an advertisement should conform:
"The mission of an advertisement is to attract a reader, so that he will look at the advertisement and start to read it; then to interest him, so that he will continue to read it; then to convince him, so that when he has read it he will believe it. If an advertisement contains these three qualities of success, it is a successful advertisement".
Ads must attract "Attention"
After that, it must create "Interest"
This interest must then stimulate the "Desire" to buy.
The desire to buy will lead to the "Action" of buying.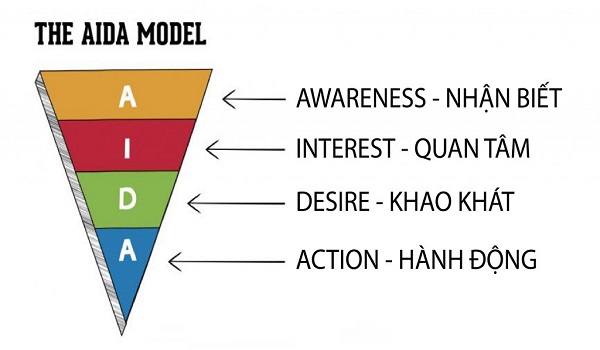 How did Baemin apply AIDA?
Attract attention
The first step in advertising is to research the market & target customers. Businesses & business people have to find out what problems prospects are facing & their buying psychology & behavior, then based on those results to create media content to be able to influence the customer emotions.
Baemin's advertisement template offers ways to help customers solve the problems they are facing - that is, an "expert" in geographical delivery, who does not hesitate to provide door-to-door service, even in the corner. This immediately contributes to helping customers trust the product/service more and build customer positioning.
Create interest
If customers are attracted to your products and services, surely they want to research, learn, and seek more information about your brand.
Therefore, the next thing to do when building a media campaign in line with the AIDA model is to attract customers. Accordingly, you must provide all necessary information about your brand on your website, fanpage, and apps, including: mission & core values ​​& product/service system of your business and everything that users will receive when looking for the service.
This not only makes it easy for customers to find about your business, the attractiveness of the benefits they receive will stimulate buyers, also create a set of reliable addresses of origin of brands, especially new brands.
"If customers are interested in your products and services, they will want to delve deeper into your brand."
Promote desire
The next important step of an AIDA advertising campaign is to encourage desire in the customer. To do that, you have to make sure that all the content on your media channels is useful. Because only when they feel satisfied with the content provided, they can consider further actions, like purchasing & word of mouth referrals.
Baemin has achieved a maximum number of followers and brand awareness within the media budget. It can be seen that the large billboards of this brand are placed in very convenient locations (at the crossroads, the gateways to cities and districts) and hund at eye level of customers. The higher the amount of interaction, the more customers trust the brand, and the opportunity to increase sales is increasingly possible.
Prompt action
The final step in building an AIDA advertising plan is the urge to action. Because even though you have created a desire in customers, you still cannot confirm that they will definitely buy your product. Therefore, what marketers need to do now is to create opportunities for customers to interact with the brand, and drive them to come to the business.
"Call now" & "Message now"; the calls for "trial", "contact" or the quotations and the communication ecosystem for the product are extremely important factors to drive consumer buying behavior.
In Baemin's advertisement, the shipper's address is "anh-em", which is stimulating and suitable for young people, the pioneers & the largest users of services & products on the online platform. This is not really the key factor, but plays an important role in driving the buying behavior of the target customers.
Conclusion:
AIDA model is one of many good advertising communication principles that businesses and marketers should apply to build better brands. However, standard AIDA requires serious investment in campaign ideas and implementation.
And finally, besides good communication, good products/services are more important than anything else, that is the essence of the brand that the 4Ps model clearly shows.